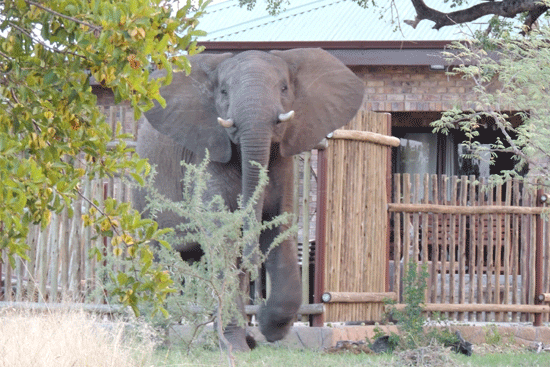 Marula trees, elephants and how it all began
Imagine, yourself buying a property blindly, like in literally, as when nightfall comes you have to light a candle just to see where you are going or what you are eating!
During January 2011 Riaan and Debbie decided that city and corporate life is no longer what their heart's desire, so they took that blindly decision to invest in a small holding within the Dinokeng Game Reserve. With no water or electricity, a pig stall transformed into their home, overgrown fences and without any luxury, they started their new journey.
Their  nearest neighbour was kind enough to borrow them some water until they discovered a hidden borehole on the property. The borehole was equipped with a generator driven pump and every time Debbie wanted to do the dishes, Riaan had to ran to get the generator started to pump enough water to their little pig sty for Debbie to clean what was needed to clean. As the days became weeks and weeks became months there was still a lot of excitement waiting to happen.
Dinokeng Game Reserve opened their gates on 22 September 2011 and soon after they started to introduce the big 5 to the reserve. This was the next challenge for Riaan and Debbie, as their fence around the property was not really something to keep wild animals at bay. Luckily for them, Eskom showed and there was power. They fenced the area around their living area but the elephants thought it looked better without the fence. They had a few close encounters with this majestic animals all because they fenced off the Marula trees on their property, what were they thinking? Well, at least these encounters left them with some great stories to tell, memories that will last forever and the fear of a Marula tree in fruit.
Seems like September was, hopefully still is, the month of joy for them, as in September 2012 the borehole was sunk and for the first time since the beginning of 2011 they had enough water for all their needs. This is also when the first real project started for them. If ever wondered, the famous Maroela chalet as it is known today use to be the pig stall where you and your family can enjoy a lovely stay. The construction of Kierieklapper as well the lapa and boma area was concluded and Marulani Bush Lodge was born.
Riaan and Debbie built their dream house in 2015, overlooking a watering hole where they indulge with their passion for the wild. Looking back now, they remember times when they had to do game drives with their Ford bakkie and camping chairs as seats for their guest. Luckily as time evolved so did the bakkie, today you will go out for the best game drives ever on a modified Pajero with proper seats and a canopy to shade you from the African sun.The development of Marulani Bush Lodge is an ongoing thing with much more exciting things to come. They are in the process of construction another 3 chalets with the first, wait for it… Hak en Steek, nogal, to be completed by April 2018.
Looking back now, they never regret a moment as those were the days that their mutual companionship mend their worlds.  A calm fun-loving atmosphere is awaiting you at Marulani, the place where families can reunite and spent quality time together under an African sky.